ELECTRON-BEAM FACILITY TSEFEY FOR POWER-INTENSIVE VACUUM TECHNOLOGIES AND TESTING
The TSEFEY stand is intended to generate high thermal fluxes produced by the accelerated electron beam, which can be applied to various objects in high vacuum.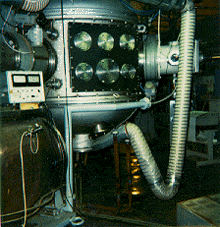 ELECTRON-BEAM FACILITY TSEFEY
Applications:
testing of energy-loaded components;
vacuum melting of materials, production of joints by casting;
deposition of coatings by thermal evaporation accompanied with electron or ion treatment;
vacuum technological processes requiring fast heating and cooling.
Distinguishing features:
compatibility with beryllium
compatibility with liquid metals;
availability of liquid-metal (Na-K) cooling loop.
Equipment used for beam and object diagnostics:
videocamera;
infrared camera;
optical pyrometers;
thermocouples;
pressure (water/vacuum) pickups;
mass-spectrometer of residual gases;
computer recording and processing of data.
| | |
| --- | --- |
| Technical characteristics: | Numerical values |
| Maximum power in beam:, kW | 100 |
| Electron energy:, keV | 20-30 |
| Maximum flux density:, MWt/m&sup2 | 400 |
| Loading duration:, sec | 0.001 - inf. |
| Maximum size of irradiation field in raster:, mm² | 40x400 |
| Scanning frequency:, Hz | 1000 |
| High-vacuum chamber volume:, m³ | 3 |
| Background pressure:, Torr | 10-6 |
| Water cooling system parameters: | |
| Pressure, Pa | 16 |
| Speed of flow, l/s | 1.5 |
| Temperature , °C | 10-80 |