ELS-900
COMPACT ELECTRON MEDICAL STERILIZER
The sterilizer is intended for radiation sterilization of medical utensils directly in clinics, hospitals and other medical institutions as well as for disinfection of infectious wastes prior to utilization.
he ELS-900 electron-beam sterilizer is constructed in NPK LUTS on the basis of UELR-3-1S linear electron accelerator with a local radiation shielding providing complete safety for operating personnel.
Syringes and needles, surgical utensils, implanted materials and tissues, dressings, surgical clothes and gloves, transfusion systems, ect. undergo sterilization. The sterilizing dose for necessary sterility of medical utensils is 15-25 kGy.
The electron beam sterilization has higher production rate in comparison with thermal sterilization methods. It provides the possibility for sterilization of products in sealed packing. In this case sterility of the processed products is guaranteed for the period of 1-2 years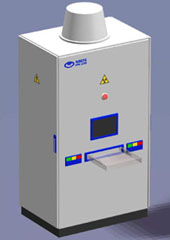 ELS-900
All equipment of the sterilizer is located inside one cabinet.
The sterilizer is controlled by PC computer built into the cabinet.
Products are processed according to corresponding computer programs.
Overall dimensions of the suggested sterilizer are comparable with those of steam sterilizers nowadays used in medical institutions.
Local radiation shielding ensures reduction of X-ray radiation to a level allowable for the category "population". The shielding is made demountable to ensure easy access to units demanding routine inspection or replacement. A window for loading products to be sterilized into the processing chamber is provided for in the radiation shielding. At the customer's request, we can design and manufacture models of the sterilizer differing in the way of loading.
| | |
| --- | --- |
| Major specifications, dementions and weights | |
| Average energy of accelerated electrons, MeV | 3 |
| Power of accelerated electron beam extracted through output window, kW | 1 |
| Dimensions of irradiation chamber, mm | 600х300х100 |
| Sizes of sterilized sealed packing, mm, no more | 560х260х60 |
| Power consumption, kW | 12 |
| Cooling water flow rate, l/min | 15 |
| Dimensions of sterilizer cabinet, mm | 1200х800х2100 |
| Weight of sterilizer, kg | 2500 |