PERIODIC PULSE ELECTRIC-DISCHARGE ALL-CHEMICAL HF/DF-LASER WITH CLOSED GAS-DYNAMIC CIRCUIT IS INTENDED FOR GENERATION OF COHERENT RADIATION OF INFRARED SPECTRUM.
ALL-CHEMICAL LASER
| | | |
| --- | --- | --- |
| Technical characteristics | HF | DF |
| spectrum, mkm | 2,6-2,9 | 3,4-3,9 |
| Generation energy in monopulse, MJ | 70 | 50 |
| Average power, W | 7 | 5 |
| Frequency of impulses repetition, Hz | 150 | 150 |
| Power consumption ,KW | 1,5 | 1,5 |
Periodic pulse electric-discharge all-chemical HF/DF-laser with closed gas-dynamic circuit is intended for generation of coherent radiation of infrared spectrum.
Components of the gas mixture - SF6, H2 (D2) - are non-toxic and non-aggressive. Reaction products are absorbed in the gas-dynamic circuit, where the pressure is lower than the atmosphere one.
Medical laser unit prototype is used as an instrument:
1. In ophthalmology Ц for enhancing eye cornea curvature;
Thickness of necrotic tissue does not exceed 5 micrometer. Healing of laser wounds is going without corneal clouding, as opposed to excimer laser keratectomy treatment.
2. In cosmetic surgery Ц for pilling, perforation and skin cut;
Practically painless cut (14x1x1 mm3) through laser subcutaneous anesthetic injection.
Healing of laser wounds on skin is going with good cosmetic effect.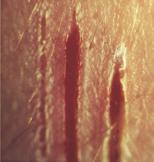 Skin of an adult man
3. In cardiac surgery Ц for myocardium perforation and restoration of blood supply during coronary artery disease treatment.
The diameter of trans-myocardium channel was approx. 1mm, size of thermocoagulation zone approx. 20 micrometer. Expenditure of energy on perforation of one channel (<8 J) is 5 time less as opposed to CO2-laser.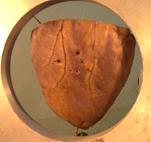 A fragment of myocardium wall of an adult man (10-14 mm)
Pluses of HF-lasers in respect to microsurgery purposes are: shallow depth of laser exposure on bio tissue, short impulses duration and radiation safety for an operatorТs eyes.